Round 2 Completed:

 300 TOP COVERS are shortlisted!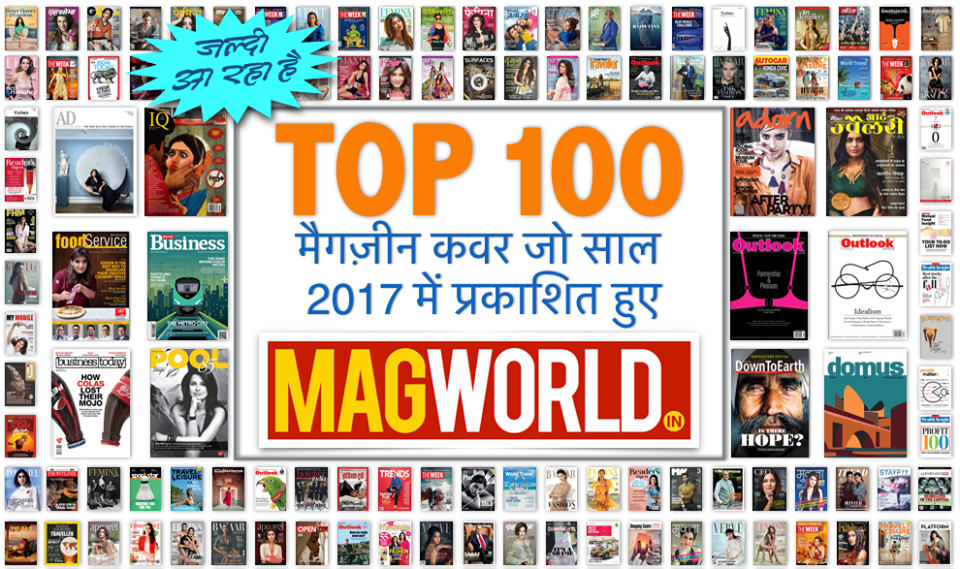 साल 2017 में भारत में रीलीज़ हुई 5000 से भी अधिक इंगलिश और हिन्दी मैगज़ीनों में से 'टॉप 100 मैगज़ीन कवर' जल्दी ही आ रहे हैं! देखिए, क्या आपकी मैगज़ीन या आपकी पसंदीदा मैगज़ीन का कवर इसमें अपनी जगह बना पाता है?
और हाँ, पिछले महीने में हमारी वेबसाइट www.MAGworld.in पर 25,000 से अधिक Hits मिले… हमें विश्वास है कि यह नंबर बहुत सारी मैगज़ीनों की वेबसाइट से भी ज़्यादा है! आप सबके सहयोग और प्रोत्साहन का आभार.
---
A Unique Identity of your magazine improves your copy sale!
---
MAGworld.in


helps you to put a
'great' magazine together!
Best editorial services can be yours* for 

Rs. 10000

only!!!
*(Only people with decision making powers should contact.) 
---
A Couple of Noticeable Magazine Covers from this month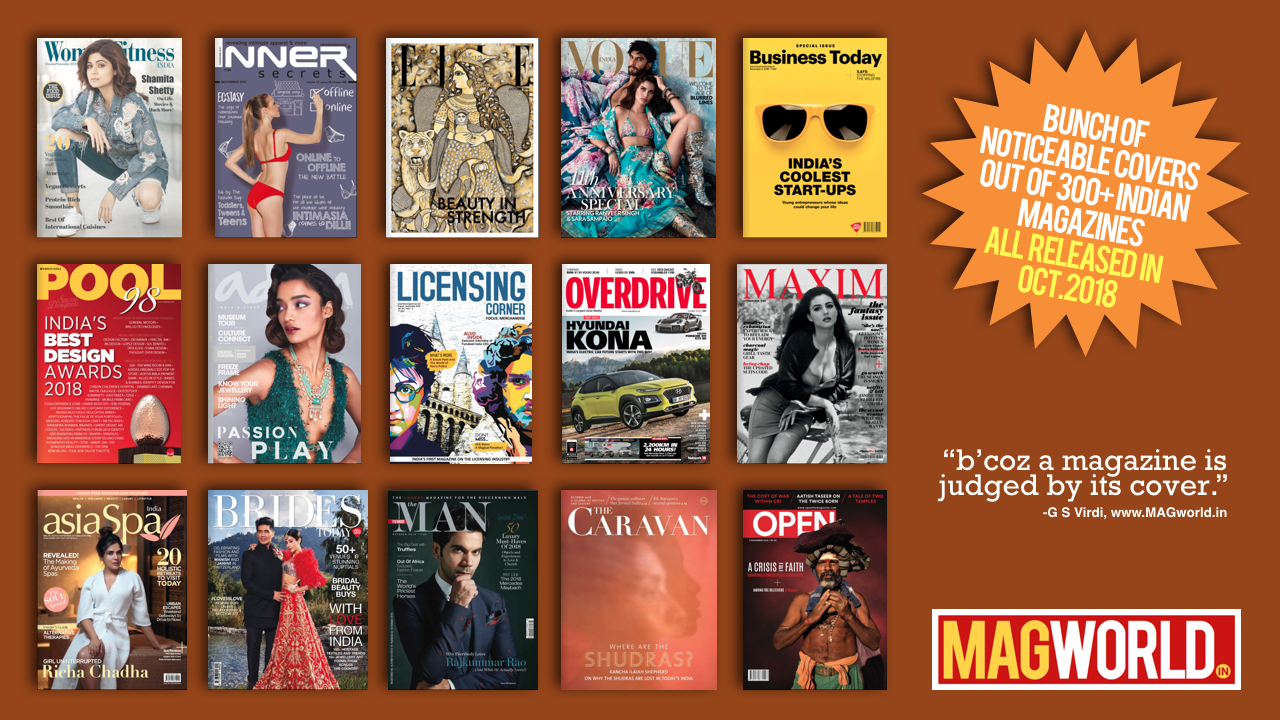 ---

---
Releasing soon…
Top 100 Indian magazine covers from the year 2017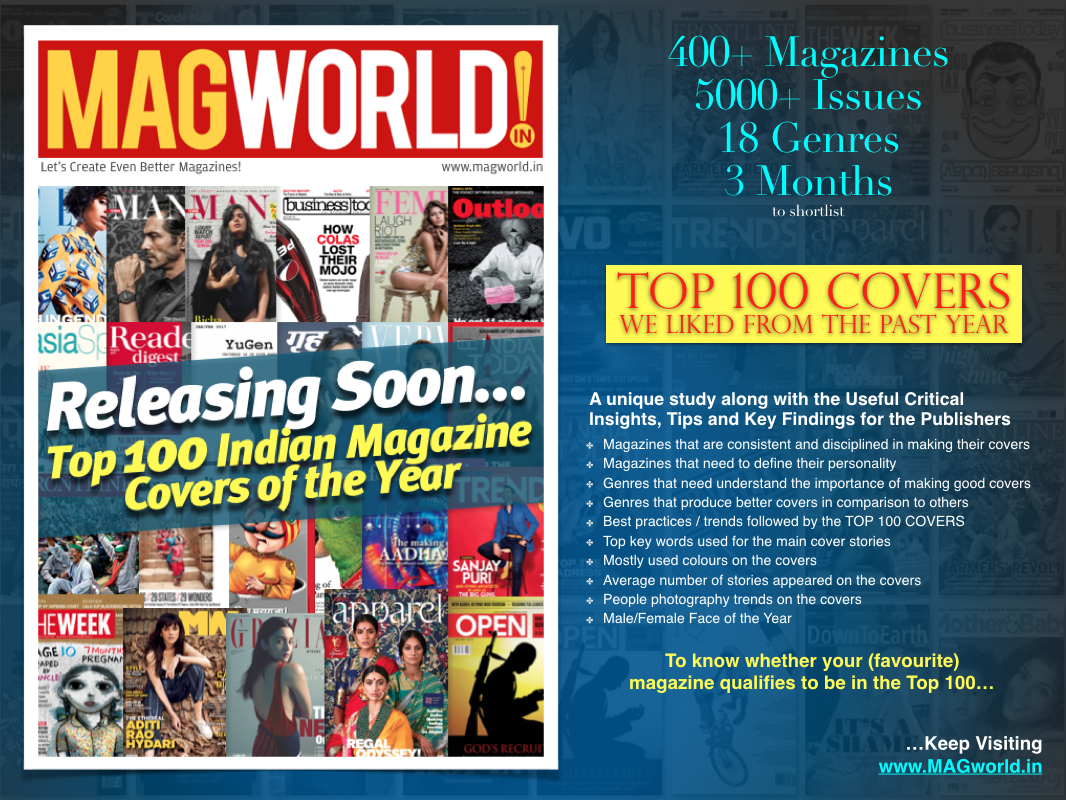 ---
Top Ten Indian magazine covers from the month of
August 2017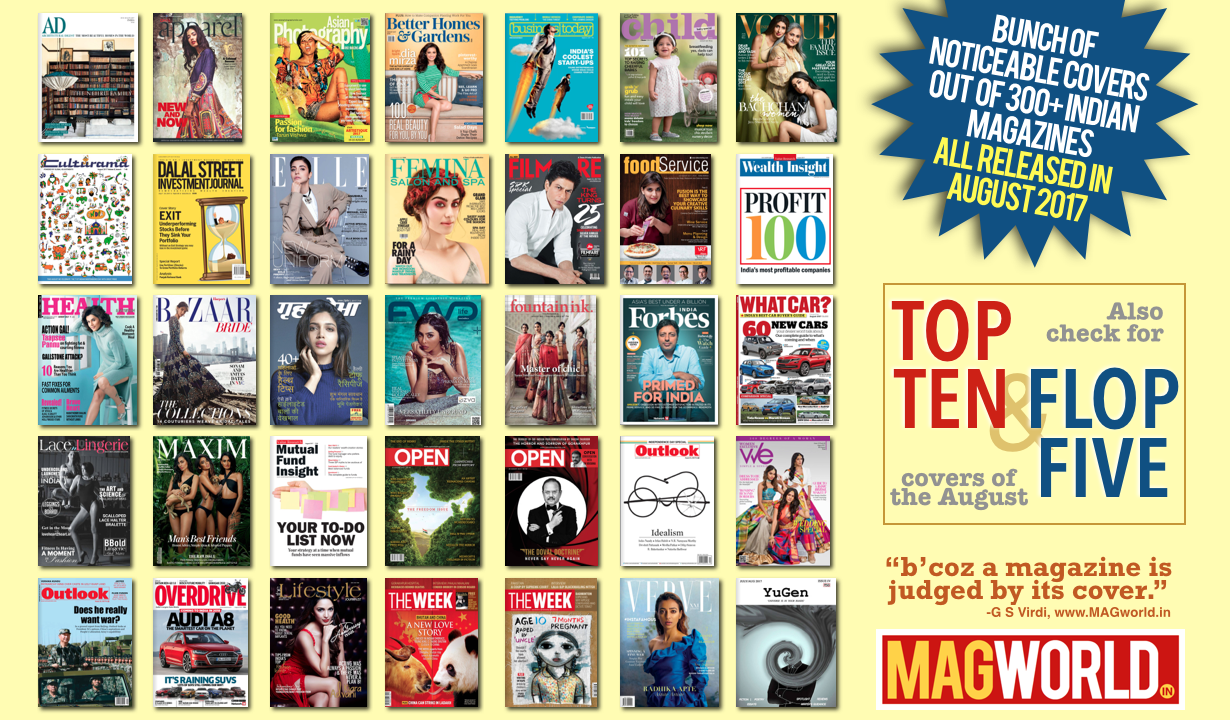 ---
Newsstand Observations
New Launches 

























MAIN HU KISAN - Sep 2017 
The most pathetic cover of any magazine I have seen so far! 
   Just look at the masthead - Main Hu Kisan, and then look at the main visual and the cover stories(?). Do you see any connection between the genre of the magazine (as its title suggests) and the main visual? It happens when a magazine is managed by a person with no publishing & editorial skills. 
   As a magazine critic, all I can say on this cover - What were they thinking?  
BETTER PHOTOGRAPHY - Jun 2017
They should realise that in order to make 'zara hatke' (or call it 'extra ordinary' cover) for the 'special' (anniversary) issue, they actually produce the worse cover! Look at the regular covers (All on the Right); they are focused, logical, thoughtful, disciplined, branded and are still creative unlike the 'special' cover (on the Left). In the name of 'special' you cannot do just whatever you want to do… at least the regular covers have strong connection between the theme of the issue, the main visual and the main cover story. Latest cover of BP anniversary issue is not even aesthetically pleasing.
MAXIM - Jun/Jul 2017
One more badly designed cover! MAXIM's 'HOT 100' special issue…A good photograph… but poor visualisation…unattractive copy for the cover stories… weight imbalance… very indisciplined & basic mistakes of making a great cover of a special issue… looks very shallow issue by looking at this cover (Left). Some of the past covers (all on the Right) were great in comparison to this current issue… even that 'only text' cover was also better at least that one had minimum elements on the covers and therefore there was lesser scope left for the creative team for creating mistakes.
ELLE - May 2017
Still lot to learn before Indian magazines go for such covers (left) in the line of foreign magazines (all on the right). This could be a great cover of ELLE (India) but they just spoiled the opportunity.
Top 200 Indian magazines covers from the year 2016
Top 100 Indian magazine covers from the year 2013